Last updated on March 23rd, 2020 at 07:17 am
The best chefs from all over the world will tell you they can't manage whatever they are doing without having the best kitchen utensil. These must-have kitchen gadgets make our lives much easier while cooking.
The utensils used to prepare any meal to play a vital role in the quality of the end product that will be served. There cases even when some utensils peel off or melt contaminating food as you're cooking.
There are various types and brands of home utensils you can find on the market right now. However, if you're looking for the best kitchen utensil set, you can never go wrong with the selection we have put together for you below.
These are among the best and outstanding kitchen utensils everyone is looking for to uplift their kitchens and make work easier.
Best Kitchen Utensil Sets
The 5-piece Calphalon Cooking Utensils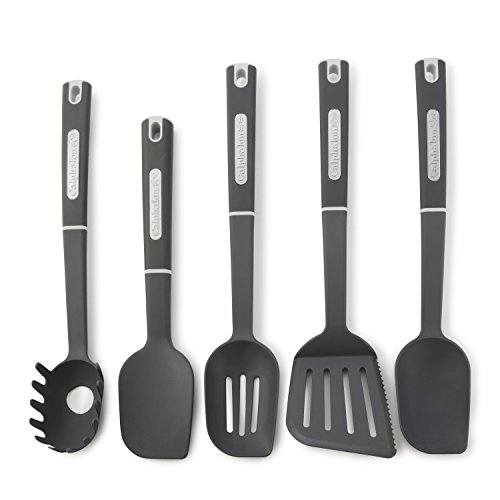 The Calphalon is a great set utensil that will give you value for your money.
The set comprises of uniquely designed spoons that can reach the edge of every pan. The complete set comprises the following:
Pasta fork
Large Scraper
Solid spoon
Slotted spoon
Slotted Turner
The scraper comes with edges of different shapes that easily get to corners of pots and pans while the spoon has a flat edge that can scrape the bottoms of pots and pans with ease. The spoon does a great job of making eggs and sauces.
The Turner has a low profile head that allows it to angle under food and turn it with ease. The edge of the Turner is serrated to cut food making it a versatile utensil.
The spoon can be used for anything. The past fork easily picks raw pasta as the center holds the cooked pasta measuring the single serving of each piece picked. The scraper comes with a silicone head that can be used for stirring, mixing and folding ingredients.
The handles of the utensils are all soft and texture to offer a good grip. They are all slotted and drain away water very quickly.
Some of the features included:
Heat resistant to 400 degrees
BPA free materials
Dishwasher safe
Nonstick cookware
Full-time life warranty
OXO Good Grips 15-Piece Everyday Kitchen Tool Set
The Oxo Good Grips is a complete set of everyday items that you will need in the kitchen coming with a super-efficient holder. The holder together with the 14 pieces is what makes the 15 complete sets.
The set is worth every single penny spent with each utensil in the set serving multiple jobs. The plane grater and pizza cutter for me stood out.
They are good looking, easy to hold and well built. The complete set includes a 12-inch tong, square cutter, flexible turner, spoon, grater whisk, slotted spoon, meat tenderizer, spatula, holder and pizza wheel.
The items in the set are either made of nylon or silicones which are great for non-stick surfaces. They are heat resistant up to temperatures of 400 degrees Fahrenheit.
This makes them safe to use while cooking under high temperatures. The utensil holder includes a removable drip tray and dishwasher.
The base of the holder might vary, but they all do a great job in storing the utensils. The Oxo is a great set whether you're planning of enhancing your kitchen or simply starting out. The 15 pieces will not only serve you but bring, function, value, and style to your kitchen.
Some of the features included:
Heat resistant up to 400 degrees F
Nylon and silicone head for nonstick surfaces
Slim-lined efficient utensil holder
15 pieces for every cooking need in the kitchen
Farberware Classic 17 piece tool and gadget set
The 17 piece Farberware Classic comprises every utensil you need to prepare any cooking tasks. The complete set includes 4-piece measuring cup, 4-piece measuring spoon, can opener, slotted turner, spoon/spatula, spatula/scraper, basting spoon, turner, slotted spoon, pizza cutter, and peeler.
They are a versatile set that is safe to use with all cookware. All items in the set can be hand washed apart from the can opener making maintenance quite easy.
The 4-piece measuring cup and spoon vary in sizes from a ¼ inch to a full tablespoon. They are all well marked with their respective prices for easier use.
This is the best setting for those starting to build a kitchen or moving to a new apartment. The price is affordable considering what you're getting. The comprehensive stock is everything a well-stocked kitchen needs.
Some of the features included:
Nonstick and safe for cookware
17 pieces for every need in the kitchen
Dishwasher safe apart from opener
Measuring cups have different capacities
Nexgadget premium kitchen utensils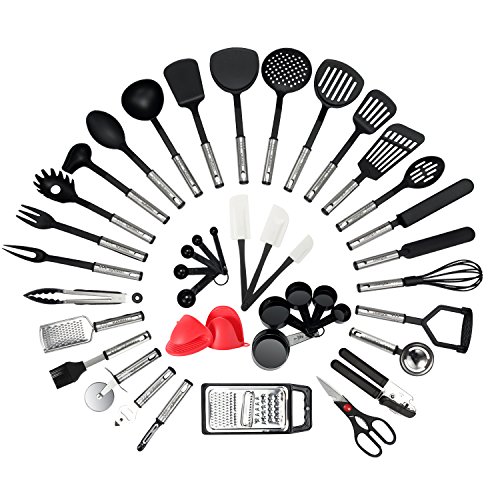 The Nexgadget I a premium set of kitchen utensils with a varied selection of kitchen accessories to cover most of the tasks in the kitchen.
The premium Nexgadget comes in a set of 19 and 38 respectively with consumers choosing from their favorite choice depending on their needs.
The 19-pieces set features five nylon pieces and 14 extra gadget tools. The 38 set features 18 nylon pieces and an extra 20 gadget set.
The pieces are quite strong and durable with every single utensil being constructed from durable nylon, sturdy, and stainless steel components to improve performances.
The nylon is heatproof with the stainless steel component preventing the cookware from scratching or scuffing.
This is the perfect gift for this coming holiday for friends and relatives who love cooking. The nylon grips are ergonomic and have large handles that give you maximum control when cooking.
The set if quite easy to maintain with all utensils dish washable apart from the opener that must be hand washed.
Some of the features included:
Durable and versatile design
Comes with a wide range of kitchen accessories
Nylon utensils that resist high temperatures
Packaged in a nice gift box
25-pieces for every need in the kitchen
Lucentee 22-piece kitchen utensils sets
The Lucentee 22-piece kitchen utensils are the ultimate starter to any kitchen consisting of all the basic items we use every day in the kitchen.
The complete set consists of 5 sets of measuring cups, five plastic measuring spoon, pizza cutter, cheese grater, slotted nylon cutter, slotted spoon, vegetable peeler, can opener, bottle opener, steel whisk, steel tongs, slotted nylon turner, and a silicone spatula.
They are a quality set of items made from stainless steel and durable but flexible nylon. The plastic is BPA free with the nylon handles all large enough for better grip when cooking.
They are a must-have set for people who love spending time in the kitchen cooking and FDA approved making them safe for use. They are durable and can last for long periods of time.
Lucentee 22-piece kitchen utensils are an affordable set that can offer you anything you need in your kitchen without costing you an extra fortune. You can just think of every utensil needed coming in one box at a very low price.
Some of the features included:
5-piece set of a vegetable peeler, slotted spoon, slotted nylon cutter, cheese cutter, pizza cutter and measuring spoon
BPA free
FDA approved
Durable
Great design
Quite affordable
Kitchen utensils cooking set by chefcoo
The kitchen cooking by Chefcoo is a set of 8 nonstick pieces with every kitchen tool for all your cooking needs.
It is a well-balanced kit containing a slotted fish turner, skimmer, spaghetti server, masher, soup ladle, fork, turner, and whisk.
They are made in a great design that takes into account your expensive pots and pans. The nylon heads will not create any scratch to your pots and pans whatsoever.
The elevated handle is an added advantage that keeps the counter clean. The complete set will help with all your cooking needs.
Some of the functions you can perform with these utensils include:
Mixing
Basting
Whisking
Stirring
Grilling
Baking
Frying
Serving
These are almost all the functions that happen in the kitchen when cooking. The handles have been painted beautiful adding some style to your kitchen. Some of the Featured colors include blue, yellow, red and orange.
The handle is also non-slippery for a comfortable grip as you do your cooking. They are ergonomic and safe with FDA approval. All the utensils are 100% FDA food-grade non-toxic, tasteless, BPA free, anti-dust and durable.
They are non-stick and bakeware and can resist heat up to temperatures of 210 degrees Celsius. The Chefcoo kitchen utensils are an ideal solution for individuals looking for long-lasting kitchen utensil set.
Some of the features included:
Colorful and compatible grip
100% FDA grade
BPA free
Tasteless
Nontoxic
Anit-dust
Durable
Nonstick and cookware
Maxam ktool172 17 piece kitchen tool set
The Maxam is kitchen utensils set is everything every cook could ever wish for coming at a very affordable price. It is a 17 set of kitchen utensils that will nicely display on your countertop adding some style to your kitchen.
You will never again have to go through the trouble of searching for a certain item in the drawer. The set comes with a contemporary wire storage basket that holds the 16 pieces.
The wire storage is big enough and spacious to hold the items and the use of wire allows for quick drying of the utensils.
Some of the utensils in the set include a pie server, strainer, ice cream scoop, pizza cutter, slotted and solid spatula grater, vegetable peeler, spaghetti fork and ladle.
This kitchen set is great for someone who is just starting. The warranty is a lifetime, and you can be assured of getting full value for your money.
The spoons and spatula are long enough although this causes them to fall off the holder. You might have to transfer them to another container.
Apart from this, the set is a great product to start your kitchen. Most of the items work well for what they are intended for which for me is great.
Some of the features included:
Contemporary wire storage
16 complete pieces that are required in the kitchen
Limited lifetime warranty
Durable
Unique designs
Küche Premium 7-pieces Kitchen Cooking Utensils Set
The Kuche premium is a 7 set kitchen utensil with a rotating carousel to keep items well organized in one place of the kitchen. It a perfect piece for all modern kitchen and one to nicely display when you want some elegant to your kitchen.
All the utensils in the set are uniquely designed with an ergonomic handle and a raised head to maintain high hygienic standards. The head rarely gets to touch the counter surface.
This prevents food from getting contaminated as you serve. The items are all dishwasher safe. They are a versatile set that can be used with non-stick cookware and bakeware.
If planning to buy a friend a gift this coming holiday, then this set is a perfect choice. They come in a gift box that is beautifully designed. The utensils are all FDA approved and 100% food-grade quality.
They are free of BPA and resist heat up to temperatures of 410 degrees F making them completely safe to use when cooking meals at high temperatures. They are durable and will last you through generations as you take delight in the Kuche's products.
One of the things that make them stand out is their colorful design. They are also compact and easy to move anywhere within the kitchen.
The handles are all made of the new silicone grade that gives users a comfortable grip when in use. You will never make a mistake of grabbing the wrong utensils with this set.
Some of the features included:
FDA approved
100% food-grade quality
Comes in a gift box
Nonstick and cookware
Heat resistant up to 410 degrees F
Ergonomic handle
Raised heads
Vremi 15-piece kitchen gadgets set
The Vremi 15 piece nonstick cookware comes with cooking utensils like saucepans and the Dutch oven pots giving you true value for your money. This is the ultimate kitchen starter with six nonstick pans and pots and five cooking utensils.
It is a versatile set with the Dutch ovens coming glass lids for added functionality. You can easily watch your food cook through the transparent glass lids.
They set a good choice when planning to go out camping with the small Dutch Ovens and mini saucepans being perfectly sized.
The set is oven safe with all the cookware being PFOA and PTFE free. The handles are ergonomic and keep you a safe distance from the fire. All the cooking utensils are all safe with handwashing being recommended for the cookware.
The set is tightly wrapped and packaged in a box with cardboard and plastic bubble wrap. You will love everything from the color, packaging, and quality.
This is a set I would proudly recommend to anybody looking for quality kitchen utensils set at an affordable price.
Some of the features included:
Five nonstick cooking utensils
Dishwasher safe
Comes with gadgets like a vegetable peeler, whisk, pizza cutter, and ice cream scoop
BPA free
Stainless steel material
Kitchenaid 17 Piece tool and gadget set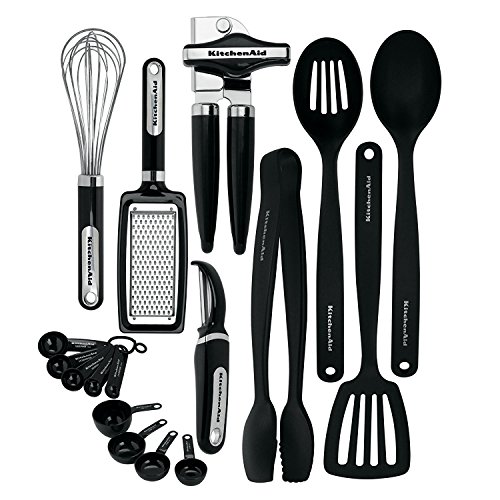 The Kitchenaid 17 Piece tool and gadget set is a perfect starter when you have a new kitchen to fill. The 17 pieces culinary tool and gadget set comes with all the utensils required for perfect stovetop cookware.
They are ideal for any cookware and will help you cook your meals with ease. Some of the items in the set include a nylon slotted turner, nylon basting spoon; nylon slotted spoon, 4 measuring cup, can opener, peeler, flat grater, and the whisk.
The set comes well wrapped in a box and can form a perfect gift for the new wedding bride. Each piece in the set is constructed from sturdy, durable plastic with other metal components being made of stainless steel metal that greatly improves performances.
The set is quite easy to maintain with all tools being dish washable expect the can opener. They are all nonstick and capable of resisting heat to temperatures of over 450 degrees which is pretty good.
You can cook meals at high temperatures without fear of contamination from the utensils.
Some of the features included:
Heat resistant up to 450 degrees F
Sturdy and durable with plastic and steel construction
Dishwasher safe
17 pieces included
Zodaca premium 7-pieces kitchen cooking utensils set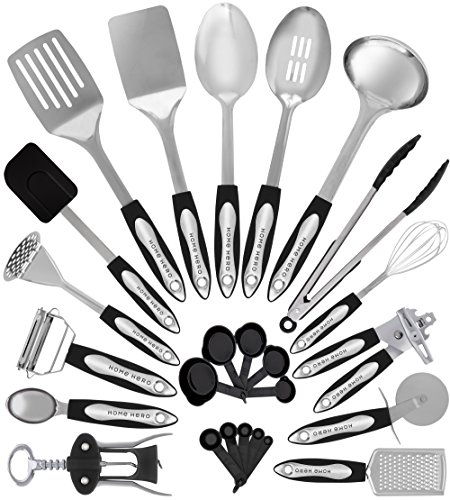 The zodaca premium cooking utensils are another set that comes with a rotating carousel that nicely displays all the items for easier access. They are a nice set to display in the kitchen coming in multiple colors and sizes.
The head material is made of nylon which is pretty durable. The 7 set piece includes the ladle, slotted spoon, spaghetti server, turner, whisk, and the rotating carousel. The set is nonstick and resists heat to temperatures of over 446 degrees.
All the items are refrigerator, freezer and dishwasher safe making them quite easy to maintain. The set is a quality product and does not rust or stain a feature required of all kitchen utensils.
They are lightweight weighing less than 1.6 KG. This makes them easily portable. You can easily move them around in the kitchen without any difficulties. They cool down very fast and can be used for various jobs when cooking.
They are made with a unique design that ensures the head is always raised even when the item is facing down.
This helps maintain the hygiene conditions in your kitchen. Choosing the item to use is quite easy. Simply spin the rotating carousel and choose the item you want.
Some of the features included:
7 set piece
Heat resistant to temperatures of 450 degrees F
Dishwasher, freezer, and refrigerator safe
No rusting or staining
Multi-color
Stainless steel & silicone cooking utensil set by culinary couture
The stainless steel & silicone cooking utensil set by culinary couture is the perfect gift ideal for anybody looking for a nice kitchen utensil as a gift.
The set is one of the most durable in the market so far engineered from a high grade 304 stainless steel that is meant to last a culinary lifetime.
It is a heavy-duty kitchen set that can handle any recipe in the kitchen with ease. The set does not include the pans and pots but then has everything you need for a multitasking cooking.
It contains a slotted spoon, solid serving spoon, ladle, drainer, pasta server and a spatula turner which are all the items every modern kitchen must possess. The handle is ergonomically made allowing for maximum functionality.
The sets are all heat resistant silicone protecting all your other kitchen items from scratch and damage. They are dishwasher safe and quite easy to maintain.
The set sometimes comes with a free 40 past recipes which can make you enjoy homemade pasta with ease. The set is light and perfect if planning a camping trip. They look and feel sturdy and will be a great addition to your kitchen.
Some of the features included:
Ergonomic handle
High grade 304 stainless steel
Supreme durability
Gift included
Kitchen utensil set by cucina della Mamma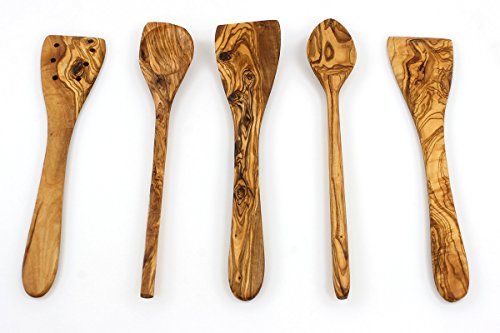 The kitchen utensil set by Cucina Della Mamma is a 9-piece set that includes a soup ladle, skimmer, slotted spoon, solid server, pasta server, regular turner, large turner, and two heat resistant silicone gloves to ensure you never burn yourself.
This is a perfect cooking utensil set with everything you need with the gloves coming as a bonus. The quality is unmatched with the design elevated to prevent contamination.
The head of the utensils will not make contact with the countertops even if the utensil is facing down. This helps improve hygienic conditions in the kitchen giving you healthier meals.
The cooking set is BPA-free, heat resistant for temperatures of up to 410 F degrees for cooking at high temperatures. The style and color are great and do not impact the quality of the utensils.
The adorable light blue color will give your kitchen a new breath of life. The set is ideal for both professional chefs and people who just love cooking. The built-in stand prevents the utensils from touching the countertops keeping food safe from germs.
Some of the features included:
Elevated design
Comes with two silicone gloves
Ergonomic non-slip handles
30-day money-back guarantee
Nonstick and cookware
The five piece Calphalon utensils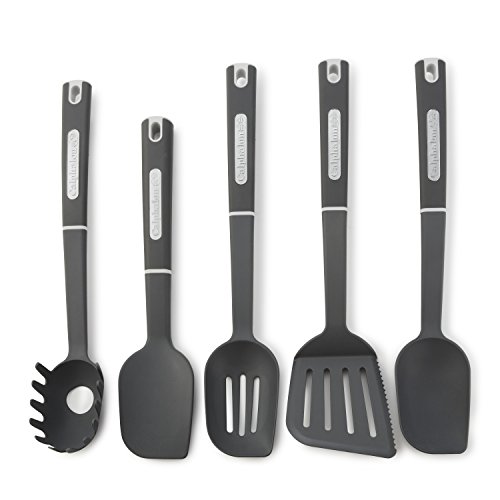 This set is a cheap 5-piece that is ideal for people with a low budget. They are affordable but don't compromise on quality whatsoever.
They are heat resistant to temperatures of 4oo degrees and above and can be used in high heat cooking without melting or producing odors. The set is BPA free and nonstick. \
They will not scratch your utensils and come with a full-time warranty. The complete set includes uniquely designed spoons that reach to almost all the corners of pans and pots with ease.
The flat spoon has a flat edge that allows it to scratch the bottom of pans with ease. However, the same spoon can also be used for stirring making it versatile.
The handles are all soft textured to offer a comfortable grip when in use. The complete set comprises of a slotted spoon, solid spoon, large scraper, pasta fork, and slotted turner.
The pasta fork holds tightly the pasta for serving or single raw pasta for cooking. The center of the past fork holds the water from drained pasta that has been cooked.
The Caphalon utensils are all great quality with sturdy construction and will surely offer users value for money.
Some of the features included:
BPA free materials
Dishwasher safe
Heat resistant to 400 degrees F
Nonstick and cookware
Full-time warranty
Thing To Consider When Buying The Best Kitchen Utensils
Stocking your kitchen can be compared to packing for a camping trip. Selecting the right choice of kitchen utensils can go a long way in helping you make the best meals within a short time.
The following are some of the basic consideration you must take when buying kitchen utensils:
1. Know your needs
You don't go buying anything just because you saw or your friend has one. Make purchases of kitchen utensils based on the needs of your kitchen. Is it a commercial kitchen or home kitchen? Choose only appliances that you require in your kitchen.
2. Safety of the utensils
Safety trumps everything when it comes to kitchen utensils. Make sure you only buy utensils that have solutions for various dangers in the kitchen.
A good example is choosing tongs that are 12 inches long to avoid unnecessary burns from the spitting oil. Spatulas bought must be heat resistant, pliable and long.
3. Quality control
Have enough a good budget to only buy quality items. The kitchen is not a place to compromise on quality.
4. Shared tasks
Getting versatile equipment will make life easier for you in the kitchen. Avoid items that are highly specific. A good example of items to avoid is the banana slicer.
5. Traditional or modern
Make a choice between going traditional or modern. We know of great traditional items that have found their way even into commercial kitchens. A good example is the hand immersion hand blender.
Concluding Thoughts
The kitchen is probably the most visited rooms in the house and one that must be properly stocked. Everything in the kitchen must be made to stand out to create favorable conditions for the cook.
The kitchen items must match well with the kitchen interior décor.
Buying the right kitchen utensils for your kitchen will go a long way in determining the quality of meals cooked. The above list comprises some of the best trending kitchen utensils. You must at least have one of the sets if you truly value cooking.
They are the best and offer true value for money.
They are not only great at serving you but adding some style and elegance to your kitchen. Go ahead and make sure you order some to uplift the appearance and service in your kitchen.